← Learning center
A guide to better ministry photos: Part 1

Ian Hsu
Jun 20, 2023
Photos are one of the most powerful ways to communicate about your life and ministry. In fact, pictures often serve as modern "memorial stones" to God's faithfulness. But what makes for an excellent photo, and how can you share more engaging images with your ministry partners?
This is the first of a two-part series on how to create effective photos for prayer requests and newsletters. We won't focus on the technical aspects of photography (e.g. composition, camera settings, post-processing). Instead, we'll examine what kinds of photos can lead to more prayer for your ministry.
1. Your ministry partners want to see you, so put yourself in the picture
Your ministry partners love you, and few things make them more excited about your ministry than seeing your face. As a mission worker, your heart is focused on the people and places you serve, so it's easy to forget to put yourself in the photo.
However, your ministry partners feel the most connected to your ministry when they see you. You are precious to them, and it honors them when you share photos of yourself.
2. The very best photos show you together with those you serve
Mission work is about how God transforms lives through gospel-centered relationships, which is why pictures of you alongside the people you serve are so powerful. These photos communicate the reality that your work touches and changes lives.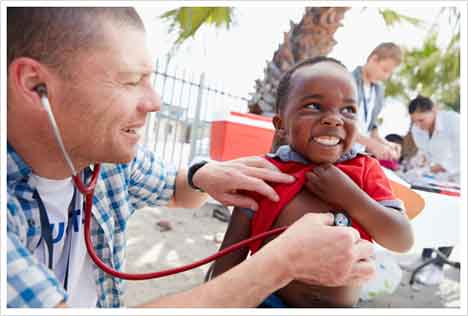 When your ministry partners see pictures like this, they immediately feel a connection with the people you serve. As a result, they grow in their excitement to pray for and contribute financially to your ministry.
Tip #1: Don't feel like you need to interrupt ministry activity to snap the perfect photo. Selfies or posed, smiling photos are fine. The key is to show yourself together with those you serve.
Tip #2: Be mindful of security, especially when sharing on social media. This is true even if you don't work in a sensitive context, since people from non-Christian backgrounds (e.g. Muslims, Hindus) can face familial or social persecution anywhere.
3. Zoom in or crop out non-essential background
Because your ministry partners may be viewing your photos on small screens (such as smartphones), it's important to fill the frame of the photo with the most important elements of the picture.
For example, compare the following two photos. The photo on the left shows the original photo from my phone. The photo on the right is the cropped version I used in the prayer request. As you can see, the cropped version makes a much stronger impact!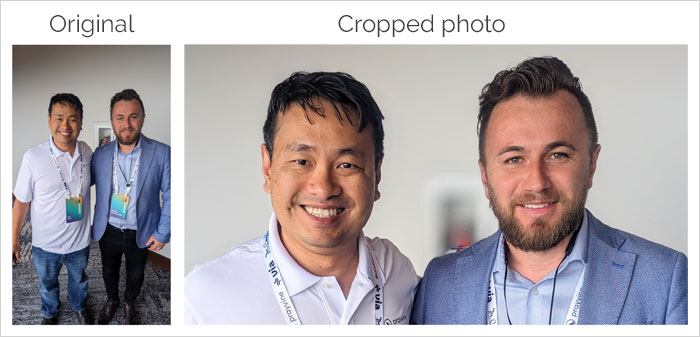 Tip #3: It's easy to crop photos with the Apple or Google Photos app. Here are video instructions for iPhone and Android.
Tip #4: It's often a good idea to crop photos to be shorter. "Tall" photos require a lot of scrolling, especially on mobile devices. This makes it less likely that your prayer partners will focus on the text of the prayer request that accompanies the photo.
Case study: which photo is more effective at mobilizing prayer?
Take a look at the following two photos of a Maasai guide I befriended many years ago. Which do you think would be more effective for mobilizing prayer and building excitement for a ministry?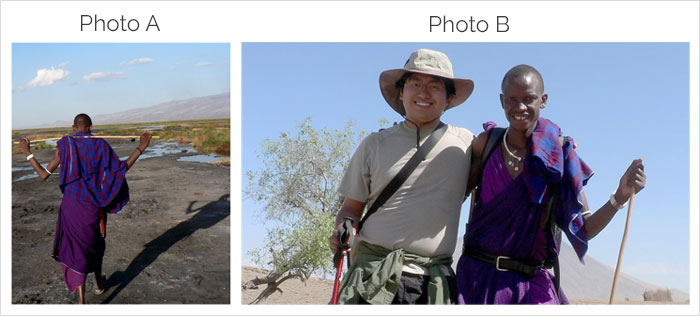 My opinion: Photo A (on the left) is more aesthetically pleasing. However, I believe that Photo B (on the right) could be more effective at mobilizing prayer and enthusiasm for a ministry. The friendship that's clearly evident in the photo is motivating, and my prayer partners would be excited to pray for us!
Gospel-oriented relationships are the beautiful heart of mission work. So be sure to capture yourself – together with the people you serve – in the photos you share with your ministry partners.
This is the first of a two-part series on how to create effective photos for prayer requests and newsletters. We'll follow-up with part two in a few months.
Create your free, secure prayer team today.

Get started →